Phishing Scams and Ransomware Attacks
You are here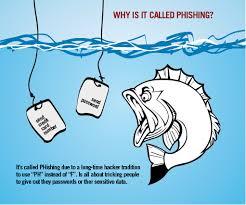 By Byarugaba Michael
Phishing Scams and Ransomware Attacks
In our world today, Phishing scams and ransomware attacks are becoming one of the most common ways through which hackers can gain unauthorised access to your computer. 
Phishing is one of the easiest forms of cyber attack for a criminal to carry out, but one which can provide these crooks with everything they need to infiltrate every aspect of their targets' personal and working lives.
Phishing scams are Usually carried out over email - although the scam has now spread to social media, messaging services and apps - a basic phishing attack attempts to trick the target into doing what the scammer wants. An example of can be handing over passwords to make it easier to hack a company, or altering bank details so that payments go to fraudsters instead of the correct account.
The aim and the precise mechanics of the scams vary: victims might be tricked into a clicking a link through to a fake webpage with the aim of persuading them user to enter personal information People were receiving emails in their inboxes telling them to download unknown attachments or click links that they weren't sure of.
As 2019 kicks in, we want to continue from where we stopped and get you even more engaged so that you are forearmed and equipped to be able to withstand these cyber insecurities. The Hackers continue to use email platforms to make sure they hack into people's computers, it has become the easiest way to get through to a network or an individuals computer. Spear Phishing attempts also happen, and this is when  a CEO or very important person is targeted, normally such information is gathered through different internet sources, it could be your Facebook, twitter, Instagram etc – all these places where we put up so much information about ourselves are a data grown for harvesting as much information as possible. We encourage everyone to ensure that their privacy settings on many of those social media platforms are made private, you can determine who can see what information, like telephone number, email etc
With the high use of social media in this era, research shows that 18% of Companies Get Malware Infections Through Social Media Platforms, this will only increase going forward, so we encourage all colleges and units, running official Makerere social media accounts to be alert and very careful. Watch out for identity theft as similar accounts with the same names are being opened to dupe people as well. See this link for more
https://www.enigmasoftware.com/companies-malware-infections-through-soci...
.
ANATOMY OF RANSOMWARE ATTACK
Check out this
video
about the Anatomy of Ransomware attacks 
Ransomware attacks were rampant in 2018, they have become more sophisticated, right now the preferred way of payment is through BITCOIN. As long as we continue to use the internet, we know that both the good and bad will continue to happen, according to Symantec Ransomware detections were more dominant in countries with higher numbers of inter-connected populations. The United States ranks highest at 18.2% of all Ransomware attacks. To see more statistics check out this
link1
and
link2 
WHAT TO DO IN 2019
BACK UP - Always make sure that you have a back-up of all your important information. Right now the new oil is called data, and attempts to steal information will continue to increase.
UPDATE YOUR COMPUTER - It is important for you computer to be up to date with the latest security patches, if your computer isn't updated, you become an easy target.
HAVE ANTIVIRUS RUNNING & IT SHOULD BE UPDATED - Without an antivirus, you stand a high risk.
CONTROL ACCESS TO YOUR COMPUTER - Lock it, have a strong password.
USE INTERNET & EMAIL SAFELY - Avoid clicking links you aren't sure of and responding to SPAM mails you don't know.
VISIT SECURE SITES THAT HAVE HTTPS - However Hackers have also now turned their attention to creating secure sites with HTTPS, so you have to be very cautious. Most unsecure sites are loaded with Malware(viruses) and they can easily spread by clicking a message that could be saying, "You have won 100,000 USD", please avoid such scams and don't click anything.
PROTECT SENSITIVE DATA
ALWAYS CONTACT DICTS AND SHARE ANY INFORMATION ABOUT ANYTHING SUSPICIOUS -You can reach us using our twitter account @DICTSMAKERERE, helpme@dicts.mak.ac.ug, support.mak.ac.ug
For more please visit this
link
We hope that awareness brought some light about the tricks that hackers use to make sure they disrupt, distort and steal your information.